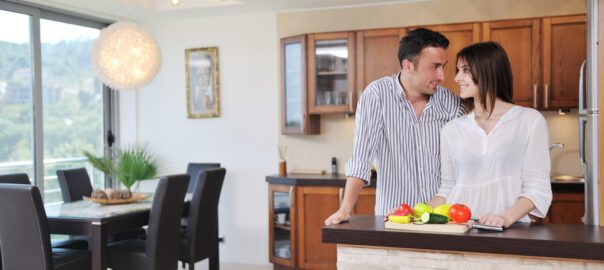 Choosing new lighting for your kitchen is a fun part of the remodeling process! There are so many beautiful products to choose from that homeowners can spend hours browsing among the various light fixtures available. These tips will help you find the ideal lighting for your kitchen.
Ceiling Fan Options
Before deciding on a light fixture, consider whether you would like a ceiling fan. Homeowners that prefer this option will only have certain options. Likewise, owners that do not want a ceiling fan can focus on other options.
Color
Deciding what color you would like will help you narrow down the selection to find the perfect new lighting. Lighting fixtures should coordinate well with the rest of the room. If you have silver knobs and handles on cabinetry, a new lighting fixture should coordinate well with those. Homeowners should also consider what color their cabinets, walls, and the trim in their kitchen are when choosing home lighting. Your color scheme can also help determine whether you'd like to explore fluorescent lighting options.
Size of the Room
Smaller lights work well for smaller rooms and vice versa. When deciding on the type of lighting for your kitchen, it's important to consider how much light you would like. In general, the main home lighting used in kitchens should be 5,000 to 10,000 lumens while smaller lights, such as those over top of a sink, should only be approximately 500 lumens.
Placement
Knowing where the lights are going to be placed will help homeowners determine what type of light they would like. For example, a light hanging over top of the kitchen sink will not have the same light fixture as one that will be placed in the middle of the kitchen. Similarly, a standard ceiling provides the opportunity to choose larger light fixtures. A drop ceiling with ceiling tiles can limit your options. Make sure to determine which light fixtures will work with your kitchen's size and ceiling type before browsing through products.
For many, the kitchen is the heart of the home. A well-lighted kitchen can make all the difference for your family and the memories you'll make. Whether you're an amateur chef or just looking for a picture-perfect kitchen, we would love to help you choose the perfect fixtures for your space!