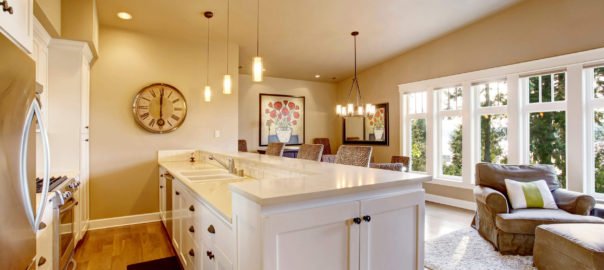 It's amazing what a little light will do. Light really makes a room open up, makes it more inhabitable, more welcoming, and more useful. This is true even in the kitchen. Working in an under-lit kitchen can be a frustrating experience, while good lighting can make the kitchen the center of the home. When you think about where to place lighting in the kitchen, think about the tasks that you most commonly perform there.
Adjustable
Doing all the chopping, slicing, dicing, mixing, and other tasks associated with cooking means that work areas should be well-lit and clean. Under cabinet lighting is one option, but so is adjustable lighting over a work surface. Think about placing a series of adjustable hanging lamps over your primary work surface. This is similar to task lighting, just like the adjustable lamps in a workshop.
Recessed
You may have thought of lighting above the stove and above the sink, but what about recessed lighting? Recessed lighting gives a welcoming and warm reception to the entire kitchen, softly illuminating cabinets and surfaces. Instead of little pockets of light, get that overall glow with recessed lighting fixtures.
Ceiling
Ceiling fans keep the air moving and comfortable in a room where the heat is almost always on, whether it's a burner on the stove or an oven full of cookies. One – or even two – can keep things cool, especially on a hot Scottsdale, AZ day. It's rare to find a ceiling fan these days that isn't also a light.
Rheostat
When it comes to a breakfast bar, mornings might need a subtler light to help you adjust to the day. Ceiling light fixtures with a rheostat (a "dimmer switch") might seem like "mood lighting," but once you try a lower, more relaxing light, you'll find that your start is relaxed and mellow.
And remember, kitchen lighting doesn't have to be stuffy or boring. Modern ceiling light fixtures come in a variety of styles. More than lighting, these fixtures are home decor products that will add charm and uniqueness to the heart of your house. If you're not sure what look you want for your kitchen, check out Premier Lighting. Stop by one of our stores in Tucson or Scottsdale, AZ or check out our website to get ideas that will make your kitchen just as unique and individual as you are.