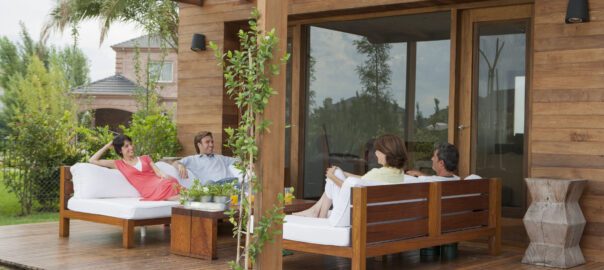 There are so many little upgrades you can make to your home, especially when you're talking about the outside. If you're thinking about investing in an outdoor lighting fixture for your patio, here's why that's a smart investment.
Security
If you keep a grill, furniture, or anything else valuable on your patio, patio lighting can help you keep would-be thieves away. According to the New York Scientific Research Crime Lab, neighborhoods with outdoor lighting were 7% less likely to be crime victims. Even if you don't have a home security system, a well-lit perimeter is enough to keep a lot of thieves away.
Style
There's no arguing against the classic style of a patio light. Patio lights look great at night, and they also do a good job of showing off one of the most appealing parts of your home. You can even invest in modern patio lights that offer sleek styling with maximum functionality.
Visibility
You need to be able to see where you're going at night, and that's even more important when you invite guests over. An outdoor lighting fixture is a good way to provide better visibility for you and your guests, so you don't have to worry about tripping or stumbling over anything on your way to the back door.
Highlighting Features
Do you have a fountain or garden that you're particularly proud of? Outdoor lighting can also be a great way to highlight some of the key parts of your yard, which can help draw attention to your favorite features. When you're installing a patio light, consider the features it highlights before you decide on a fixture.
Keeping Critters Away
Motion-sensor lights can be a good way to keep animals away from your home. If you have a raccoon problem or deer like to eat your plants, motion-sensor lighting can scare them away before they cause any damage. Keep in mind that animals may get used to lighting if it's constantly on for long periods of time.
Patio lighting can upgrade your backyard and help you highlight some of your favorite features, but you have to choose the right lighting fixture for your patio. If you're looking for the perfect outdoor lighting fixture for your home, contact Premier Lighting and we can help you find it.