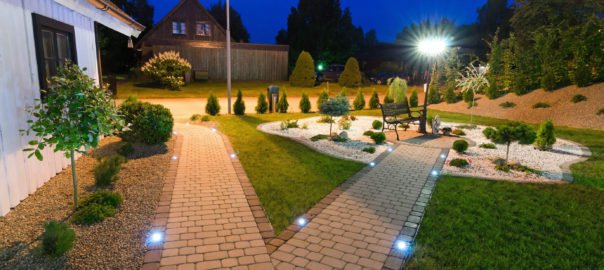 A patio that welcomes your family and friends to lounge or party the night away.
An entryway and porch that are well-lit and visible from the street.
Landscape and exterior lighting that showcases the pride and joy that you take in your home.
When you create a lighting scheme for the outside of your home, you're doing more than enhancing safety. You're adding to the value of your home. Let's look at the four types of outdoor light fixtures that will make your Tucson, AZ home look terrific!
Security
Places for these lights include garage doors, entryways, and areas that are not readily visible from the street. Paired with a security camera system, motion-activated lights such as floods and spots can end up being a surprise party for burglars.
Large Area
Patios, pool areas, landscaping, and driveways benefit from being well-lit. Floodlights are best for this and can be mounted on the home or with freestanding fixtures so that your home doesn't look like the local high school football field.
Focus
Pathways don't need intense lighting, but should be well-lit in order to be visible. Globes, spots, and even lampposts can clear the way without being too bright. A lighting scheme for the front door can include a pendant in wind-sheltered areas, or immobile fixtures above and to either side of the door.
Accent
Is there a special feature around your home that you want everyone to see? Highlight your beautiful garden, pathway, or outdoor dining area with bullet lights and small spotlights.
A rheostat or "dimmer switch" allows you to adjust the lighting as you wish – even for larger floodlights. You can take the brightness from "Here I am!" to subtle mood lighting with the flick of a finger or – if using smart lights – an app.
Work with the Pros
If you want to use exterior lighting fixtures around your home, talk with the pros at Premier Lighting. Get the look that you want with high-quality exterior lighting fixtures and show your home to the best advantage. Our stores in Scottsdale and Tucson, AZ are stocked with all the inspiration you'll need to create a beautiful illumination scheme! Come in today, or shop at our online store to access our stock and online design resources.