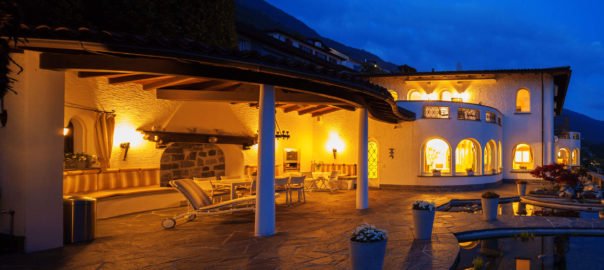 Anything you can do inside your home with light, you can do outdoors. Set a mood, highlight a focal point, and illuminate with style. Exterior light fixtures are more than a flood over the garage and a porch light. The possibilities for making your home the star of the show are endless. Moreover, exterior lighting schemes are a great way to add value to your Tucson, AZ home!
Get Started!
The best way to get an idea for designing your exterior lighting is to sit outside as the sun sets and see what areas need to be illuminated.
Think about a floodlight for the driveway, motion activated lights for the entrances, and a porch light and sconces to frame the front door.
If you're in a windy area, you might want to forego a long-chained hanging fixture for the front porch and stick with a shorter chain or one that can be secured.
Alternatively, you can choose a fixed or flush-mount light for a low-roofed porch with sconces to either side of the door.
Lighting the Yard
From walkways to patios and pool areas, there are loads of great ways to use light to highlight and enhance these areas. Just like in the home, you can create a lightscape that is composed of multiple elements.
From walkway downlights to spots, bullets, floods, and strings of lights, creating a welcoming atmosphere and showcasing your home's best exterior features adds to the enjoyment and safety of group gatherings when the sun goes down.
Go Pro
Landscape lighting designers often include lighting in their list of specialties and create stunning effects with illumination. If you're not sure of what you want, a consultation with a landscape lighting designer should clarify the best lighting design for your home's needs.
Landscape lighting designers are professionals who can refine your ideas into a doable and affordable presentation. Even if this isn't your first rodeo, a lighting expert can refine your DIY skills and help you start and complete your projects.
Finding Exterior Lighting Fixtures
Everything you need to create your own landscape lighting scheme is at Premier Lighting. Check out our website to shop online or browse our home lighting resources. With locations in Scottsdale and Tucson AZ, we're happy to have you come in and see everything we have to offer. Our expertise is at your service.