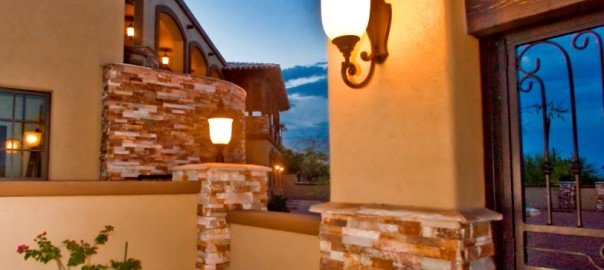 So much focus is put on lighting every room in the home, but what about those outdoor spaces in the backyard? Lighting up the yard and patio areas may be put on the back burner for most, but considering how much time is spent outside all year round, it really should be top priority.
Just as you would with any other room in your home, think about what you use that space for. Do you read out back on your patio or have family dinners outside? Do your kids play soccer on the grass once the sun has gone down? No matter what you use your backyard for, decide how much lighting you need and go from there. Then choose what types of lighting fixtures will best meet your lighting needs.
Wall Lanterns: One of the most popular outdoor lighting fixtures, outdoor wall lanterns can provide you with ample lighting while also being a decorative focal point.
Solar Lights: Solar lights are a great option for yards with lots of landscaping. They can be strategically placed throughout your yard to light up the landscaping. This not only looks great, but it can be extremely helpful for finding missing soccer balls at night. Just remember that solar panels need direct sunlight to work.
Pier and Post Mount Lights: Pier and Post Mount Lights help to add style and design to any backyard, while also lighting up the space. These lights can be placed throughout the yard to light up even the darkest of corners.
Outdoor fixtures are great for adding style and light to any backyard. They can turn a boring backyard into a lovely outdoor living space that homeowners will be excited to use and spend time in!