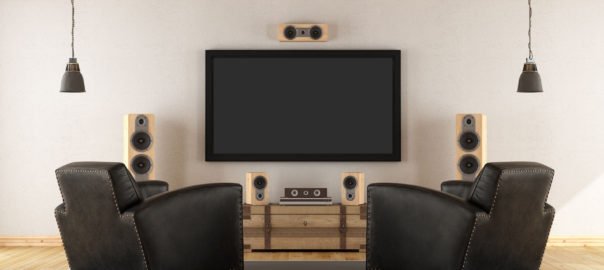 Home theater systems are great ways for friends and family to kick back and relax. They make great entertainment areas. However, there's nothing worse than entertaining guests under dim or bad lighting. Your home theater requires different lighting than the rest of your house. It's important to have enough lighting to not strain your eyes, but not too much that there's a glare on your screen—it's a delicate balance. Here are our tips for lighting your home theater.
Recessed Lighting
Recessed lighting takes up extremely minimal space, leaving you with plenty of room in your home theater. Fixture-free, recessed lighting doesn't get in the way of your television screen and won't cause a glare either.
Capped Lighting
Capped lighting allows you to direct your light wherever you desire, like your walls. This helps not create any annoying glares and also allows you to be creative with your lighting design.
Wall Sconces
Wall sconces are great for home theaters which often need less light than the rest of the house in order to create that movie theater feel. Sconces provide enough light without making your room extremely bright, especially wall sconces with shade.
Dimmers
Dimmers are fantastic for home theaters. One, they create a dramatic effect when lowered. Two, they can leave the choice of how bright or dim you'd like the room to be completely in the hands of the homeowner.
Looking for lighting fixtures in Scottsdale for your home theater? Shop at Premier Lighting and speak to one of our lighting experts today.