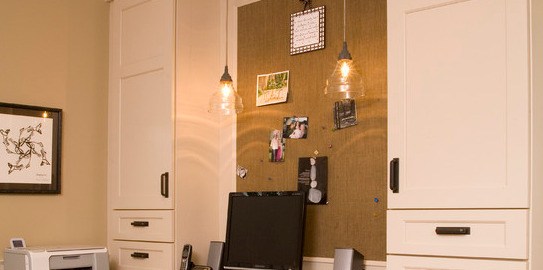 Lighting your work space should be practical, but that doesn't mean it can't also be beautiful. The pendants in this home office provide the perfect task lighting without sacrificing style. Here are some best practices for task lighting:
The light should be well distributed over the work area and shadow-free.
Adjustability is very important; you should be able to direct the light where you need it.
The task light should be designed to avoid glare
It should be energy-efficient. Efficacy of 29lm/W (lumens per watt) is the minimum to meet ENERGY STAR requirements for LED portable task lights.
Most people prefer warm white to neutral white. Warm white is normally associated with a correlated color temperature between 3,000 and 3,500 Kelvin.
The light source should not shine in your (or anyone's) eyes; adjust it downward, onto the task surface and/or the task at hand (such as a document you are reading).
Good task lighting results in less eye strain and more productivity. By pairing task lighting with your room's ambient lighting, you'll reduce energy consumption, too. Now that's multi-tasking!