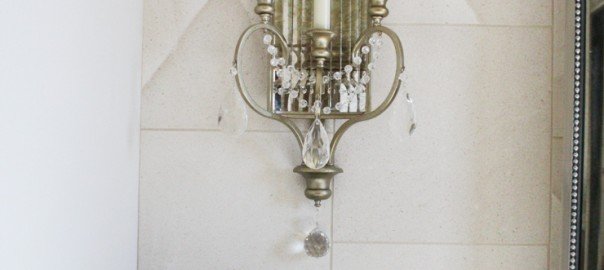 Wall sconces are an extremely versatile and popular type of lighting fixture. They can be used in a variety of room types, such as bathrooms, hallways, bedrooms, dining rooms and even outdoors. Wall sconces are commonly used to create visual balance in a space by placing one on either side of a focal point, whether that focal point is a mirror in the bathroom, a bed in the bedroom or something else entirely. They add balance, light and a sense of style to the room in which they are installed. Exterior wall sconces do the same, but with an added bonus. Because they are one of the first things you see when looking at a home, by replacing old sconces with a new updated pair, your home's curb appeal can increase immensely.
What height should wall sconces be hung at?
Generally, wall sconces should be hung 72 inches from the floor. If the ceiling is very high, sconces can be hung higher for a dramatic effect or at the tops of pillars or beams to highlight the architectural element. If there are people taller than 6 feet in the house, the sconce should be hung high enough so the tallest person cannot look directly into it.
What does ADA certified mean?
ADA certification is regulated by the Americans with Disabilities Act. ADA dictates that if a light fixture is mounted on the wall between 27 inches from the floor and 80 inches from the floor, it must not extend more than 4 inches from the wall. ADA enforces this regulation in public facilities for safety reasons.