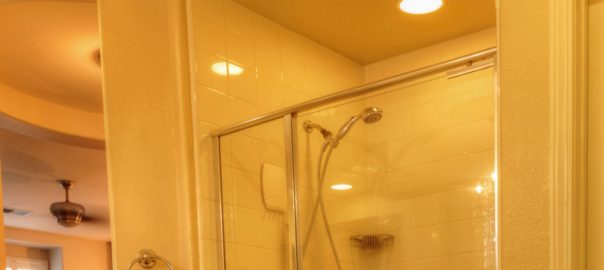 Small bathroom? Lighting doesn't have to be a nightmare. Recessed lighting offers a brilliant solution to those living with small bathrooms. Here are four ways to use recessed lighting in your bathroom.
Mirrors
Placing recessed lighting over a mirror creates an amazing vanity. Install the fixtures as close to the mirror's pane as possible. We recommend using at least two recessed lighting fixtures and spacing them so that their luminescence overlaps each other.
Showers and Bathtubs
Recessed shower lights are great for practical and safety reasons, but they're also visually stunning. Make sure you use recessed lights with a lens cover and look for special "shower trim." Housings must be "wet" or "shower-location" rated. "Damp-location" recessed lights cannot be used in the shower or tub for safety reasons.
Ambient Lighting
Recessed lights create a soft glow that transforms your bathroom into a relaxing retreat, regardless of size. They can look very similar to natural light when placed around the perimeter of your bathroom.
Accent Lighting
If there is a certain area that you'd like to highlight in your bathroom for aesthetic or practical reasons, accent lighting can get the job done. Whether you're highlighting a shower rack to see your shampoo bottles better or illuminating architectural details like an above counter sink, recessed lighting creates visual interest. With an angled baffle, it can also add sparkle to tile, marble, granite, or wood.
Recessed lighting is one part of your bathroom lighting design. You can also incorporate bar lights or wall sconces, even in a small bathroom. For bathroom fixtures in Tucson AZ, contact Premier Lighting.