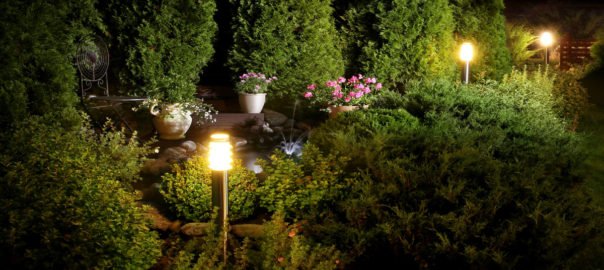 Put your property in the best light after the sun goes down and upgrade your backyard with outdoor lighting. To pull off fantastic results, putting lighting in strategic spots in your garden is a must. If you don't know where to start, here are 7 outdoor lighting tips.
Highlight Your Landscaping
Landscaping costs range from $500 to $750 on average for projects involving less than 1,000 square feet of property. Those balloon to about $20,000 and more for bigger properties, especially if these require complex landscaping. Given the costs, it's a shame for all that landscaping to disappear once it gets dark. Putting lighting fixtures in your backyard, though, put all those wonderful features on display. From underlit trees to a subtle glowing canopy of lights, you'll have the perfect spot to entertain friends and family.
Know the Basics
Lighting has three layers: overall, task, and accent lighting. By choosing a variety of bulbs and fixtures, you'll end up with a balanced lighting plan.
Beware of Issues
When you shop for landscape lighting in Tucson, AZ, check for possible lighting problems. For instance, glare is a common issue. Prevent this by ensuring that your light source isn't too big or bright. Understand how indirect light works to create soft washes of light.
Pick the Right Spots
Don't just put lighting fixtures everywhere, though. Mark the spots. Paths, entries, and driveways are ideal. If you've got steps, decks or patios, gazebos, and pergolas, these are great places for outdoor lighting too.
Prevent Light Pollution
Light pollution happens when you shine unwanted light into indoor rooms or create blinding glares. They're a waste of electricity and money. Avoid them by aiming your lights carefully. Shielding bulbs and using fixtures that come with reflectors are a good way to achieve that effect too.
Control the Light
It's a good idea to zone your lights separately. Use times and dimmers or even motion sensors. That way, you'll only need to turn on the lights that you need. You can also control the intensity or brightness with ease.
Look for the Right Shop
Get fixtures from a reputable online store. Premier Lighting offers a range of landscape lighting in Tucson, AZ, that are perfect for your outdoor lighting needs. Check out the available options to find out which fixtures will work with your budget and needs so that you can create breathtaking spots in your garden or yard.