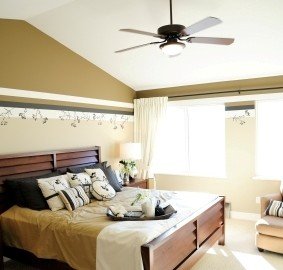 A bedroom is not only a place to sleep; it can be a refuge from the bustle of the rest of the house. There is also the need to see into dark corners like in dresser drawers and closets, where you can never seem to have "too much light". Don't forget to use layers when lighting your bedroom. We recommend overhead lighting – a ceiling fan or chandelier – as well as table or floor lamps. A new and common trend for bedrooms has been to replace table lamps with wall sconces, freeing up more surface space and bring the eye up to create more visual interest.
What size should my bedside table lamps be?
The size of the lamps should be a comparable scale to the size of the headboard and end tables being used. For instance, small lamps will be "lost" next to a large, dominant headboard, just as extra large table lamps can dominate a space next to a less dramatic and (visually) smaller headboard. Interior design is all about balance: balancing sizes, colors, shapes and heights. The more balance you can create in a space, the more appealing it will be to the eye.
What other ways can I have bedside lighting?
Swing arm wall lights add a decorative element and allow one person to read without disturbing the other. To avoid glare, install them so the shades are about 22 inches away from the mattress. Pendants, track and recessed lighting are other ways to add reading light and a touch of high style to your room.