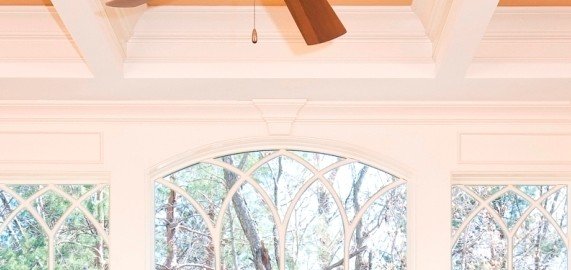 Ceiling fans come with two benefits: first and foremost, they provide an effective and quick way to cool down a space and secondly, they provide ample over head lighting. Ceiling fans have become more and more appealing throughout the years, so the days of choosing a fan simply because it will be the least visible are finally over. Ceiling fans can now be a statement piece in your room, or compliment the rest of your décor.
How high should my ceiling fan hang?
In rooms with ceilings taller than 10 feet, the ceiling fan should hang 8 or 9 feet above the floor. A longer downrod may be necessary to achieve this height. Fan manufactures have optional down rods to make this possible.
Can I hang a ceiling fan from a plastic junction box?
A ceiling fan must always be hung from a metal junction box. A plastic box will eventually crack with the vibration of a ceiling fan and can cause the fan to fall. A reinforced junction box can typically be utilized for this purpose. Most homes already have them in place in the dining room and where ceiling fans are installed.
What size ceiling fan do I need?
For maximum efficiency choose a fan to fit the size of your room. For a small area, like a bathroom, choose a 29 to 42 inch blade span fan. Average to large sized rooms can be sufficiently cooled with a fan that measures 52 inches. For large rooms, utilize a fan with a 54+ inch span to sufficiently cool the area.
What size down rod do I need?
For maximum airflow, choose a down rod length that will allow your ceiling fan to sit 7-10 feet off of the ground. The chart below is a good starting point, though rooms with higher ceilings tend to be larger and therefore require larger fans, which are not always supported by a certain length down rod.
If I hang a ceiling fan from a sloped ceiling will it hang straight?
If the slope of your ceiling is less than 30 degrees, the fan will hang straight. Be sure that the placement of the fan on the slope will allow adequate room for the blades. A downrod of at least 18 inches usually takes care of this issue. Most manufacturers stock an optional sloped ceiling adapter for ceilings that have a steeper slope.
Can I use any ceiling fan outdoors?
A fan made specifically for the outdoors should be used. Outdoor ceiling fans have sealed motors to protect it from moisture and dirt, the blades are made of special all-weather material to prevent cracking and warping and the fan will be labeled for "Damp Location". Any added light kits must also be specifically for "Damp Location" use. If the fan will hang in a location where it might get wet, it must be a fan labeled "Wet Location", and it pairs with a light kit specifically for "Wet Location" use.
Does it matter which direction a ceiling fan turns?
In the summer a ceiling fan should turn clockwise to create a breeze, and in the winter it should be set in the reverse position (counter-clockwise) to circulate the hot air that rises back down to the floor area.