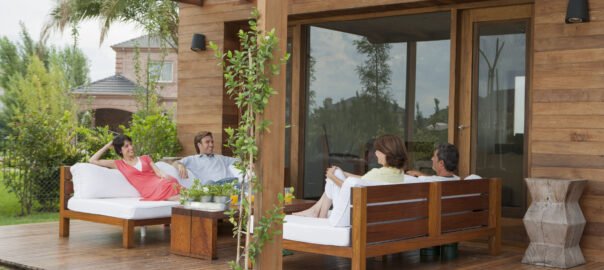 The Department of Energy estimates that the average home spends 5 to 10% on lighting. While we budget for interior lighting, we tend to neglect exterior fixtures. In this article, we share some tips on how to use outdoor lighting to create an inviting space in your garden.
1. Take Time to Design and Plan Ahead
You should take time to evaluate the landscape and what parts will be best served by outdoor lighting. You can use the opportunity to identify safety hazards on your property.
For safety, you may need an outdoor lighting fixture with illumination ratings of over 200 lumens. You may want to go for softer illumination when accentuating garden features. Prior planning will ensure you can balance the aesthetics and security demands of the space.
2. Accentuate the Best Features in Your Garden
You can create an inviting ambiance by artistically placing lighting fixtures on the landscape. You can find gorgeous lamps to highlight the finest aspects of your garden. The elements you emphasize could include things like a rock path or a blooming flower.
But it is crucial to appreciate how light can invoke visual interest and create depth. Find ways to creatively utilize outdoor lighting to bring out different tones and colors for the best effect.
3. Add Different Types of Outdoor Lighting Fixtures
You also should understand how to make the most of different fixtures. Your garden ought to have a mix of task, ambient, and accent lighting. Tasks lighting on walkways can serve as a guide to guests along a path when it's dark. Accent and ambient lighting fixtures illuminate horizontally to allow people in your home to identify faces and features.
4. Don't Over Illuminate the Garden
You can get carried away when adding exterior lighting fixtures in the garden. The light is meant to create a cozy ambiance to make the outdoors favorable to host your guests at night. Using too much illumination is often counterproductive.
Some areas of the garden should remain dark for the best visual effects. Additionally, outdoor lighting can harm the flowers and shrubs in your yard. Reducing the number of light fixtures cuts down energy consumption and is beneficial for the environment.
5. Consider Safety and Security
As you work to turn your garden into a cozy, inviting space, ensure the light fixtures address security and safety. Poorly lit areas can pose trip hazards that may cause injuries on your property. Dark spaces are also a magnet for opportunistic buglers and stray animals. It is also important to ensure that all the wiring and lighting fixtures are installed correctly. This minimizes the chances of electric shocks or worse.
6. Invest in Outdoor Lighting
You can find high-quality fixtures at a fair price, but you will need several of them to create the desired ambiance. Therefore, you're advised to set aside 5% of your garden renovation expenditure for outdoor lighting.
Get Lighting That Works for You
For outdoor lamps, you should go for durable and weather-resistant materials. Consider fixtures made of brass that can resist rusting as it is subjected to harsh elements of nature. You may also want to go for LED lighting as they last longer and consume less electrical power. Feel free to experiment with fixtures and personalize the space to your liking.