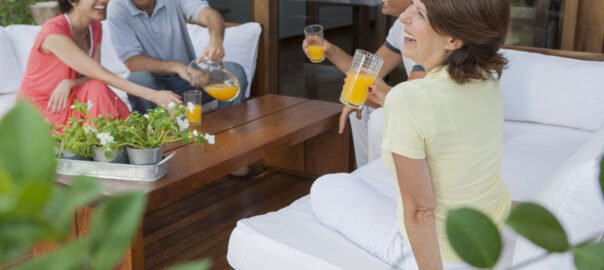 You have to consider multiple aspects of your home's exterior before installing outdoor lighting fixtures. The illumination must be adequate for security reasons. But you also have to think about the ambiance and other elements of your yard. Here are a few tips for getting the most out of different types of outdoor lights.
Exterior Pendant Lighting for Your Patio
Hanging outdoor lighting fixtures are ideal for a home with an entryway or an area outside the entrance. Flush-mounted lamps tend to cast shadows, which can affect visibility. You may have to combine with other types of lights for optimum illumination.
While hanging lamps can cast the light equally in all directions, you need to ensure it is mounted high enough. If the ceiling is low, you can place the pedant lights between outdoor furniture or away from walkways. The objective is to ensure the lamp does not impact the headroom along pathways.
Exterior Garage Lighting
To cover the entire driveway, you may require a combination of outdoor lighting fixtures. That is because the driveway may be too far from the entryway light. You may use two lantern-style cone lamps for both sides of the garage entry. Garage lighting should ideally be 6 inches above the door frame.
If security is your primary concern, you may install floodlights instead of using two lamps. Consider going for motion sensor lights that light up when someone approaches the garage. They can conserve energy while enhancing security on your premises.
Discover the Benefits of Outdoor Pole Lights
The classic pole light is becoming a familiar feature in many homes today. It usually takes the form of a lamp mounted on a post. They also come in a variety of styles, ranging from the conventional design to solar light fixtures.
The lamp is usually in an elevated position that allows light to spread to all parts of the yard. The outdoor lighting fixture is suitable for parking spaces, pool areas, pathways, and walkways.
Enhance the Ambiance with Landscape Lighting
Landscape lights are outdoor lighting fixtures whose primary role is to enhance the aesthetics of your garden. They rise a few feet above the ground and may be positioned along pathways for illumination.
However, you need to carefully consider the placement of these light fixtures to avoid shadows. They should also produce soft light to prevent glare. That's why you need several of them to achieve the right level of illumination.
Rope or String Lights for a Party Mood
As the name suggests, string lights consist of a series of lamps on a cord or string. Most applications for these lights are aesthetic. They can serve as subtle lighting for an outdoor barbecue.
You can use them as decorative lamps for parts of your backyard. String lights are often used when you need to invoke a party mood ambiance.
Ensure You Make the Right Lighting Upgrades
A lot of thought goes into installing outdoor lighting fixtures. Always check the wattage and the number of bulbs you'll need. Remember that the average household in the United States spends about $1,945 on general electric bills every year, and the right bulbs can help you cut that down. Also, keep in mind that the shape and orientation of the lamp will affect illumination.