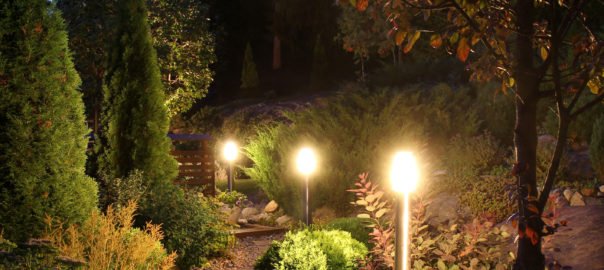 According to the most recent data from the US Department of Energy, the country has up to 114.8 million households. Many of the residents in these homes are spending more time in their outdoor living areas these days, owing to modern external lighting that is both useful and appealing. Outdoor fun does not have to stop when the sun sets. A top-notch outdoor lighting fixture can help create an atmosphere in your yard, direct attention away from unsightly areas, and highlight particular features in addition to providing brightness. However, because there are unlimited options, deciding on what type of lighting to use can be a bit stressful. Here are some of the best outdoor lighting trends for 2022!
Solar-Powered Path Lights
Solar LEDs are becoming increasingly popular as an outdoor lighting fixture option for walkways and patios. The best aspect is that these lights are simple to install because no complicated wiring is required. Solar-powered LEDs are also perfect for accent lighting because they don't produce extremely bright light. Additionally, when you choose solar-powered lighting fixtures, you are picking an environmentally beneficial and energy-saving solution.
Bistro Lighting
These lights are strung together and suspended over outdoor areas. They are also referred to as strand lighting. You may use them to cover your patio, deck, or exposed porch, for example. Bistro lighting provides a fantastic touch to any party. They have the ability to transform any outdoor space into a softly-lit entertainment area. While many people use them during the Christmas season, there's no reason why you can't use them throughout the year.
Lantern Lights
Lanterns were never truly phased out of the lighting sector. Traditional and elegant lantern lights still retain appeal as outdoor lighting options. Lantern lights are an excellent outdoor lighting fixture option for accent lighting on your patio or deck. Dreamy, globe-like pendant lights may also be used to illuminate your garden trees or plants.
Hardscape Lighting
Hardscape lights are used to illuminate the hardscapes in your yard. It's perfect for illuminating pillars, pathways, and steps. Hardscape lighting is similar to downlighting in that it employs a soft light that shines downwards. You may use them to lighten dark areas and draw attention to little decorative details.
The above options represent some of the best outdoor lighting options in 2022. Deploying them in the right areas will give your home just the right lighting touch and make it glow. Need outdoor lighting fixtures for your home? Contact us for the best options!