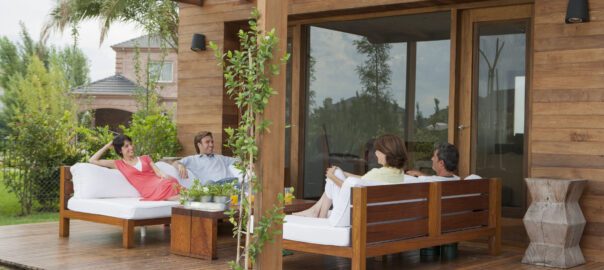 Outdoor lighting fixtures come in many different types and styles, but an outdoor lantern is one of the best choices for your home or business. An outdoor lantern provides a warm and inviting light that can be used to create a pleasing atmosphere outdoors. With its traditional charm, an outdoor lantern has a timeless appeal that makes it perfect for any garden, patio, or porch setting. Below are some of the many reasons installing an outdoor lantern is a great way to enhance the beauty of your outdoor space.
Offer Soft Glow
According to Snow Brains, Americans spend 12 hours outside every week. Outdoor lighting fixtures provide the make or break when creating a comfortable, inviting atmosphere. An outdoor lantern can offer a soft, pleasant glow that creates an inviting space for your family and friends. Whether you're hosting a party or enjoying some evening outdoors, the right lighting can add just the right ambiance to any area.
Increase Safety
Outdoor lanterns are aesthetically pleasing and beneficial in terms of safety. Installing an outdoor lantern near walkways and driveways helps create visibility during darker times of day and night, making it easier to see where you're walking or driving. Plus, they provide an additional layer of security as potential intruders are less likely to approach a well-lit area.
Add Beauty and Style
Outdoor lanterns come in various styles, sizes, and colors. Consequently, they can easily be matched with any outdoor decor. Whether your home has a modern or rustic design, an outdoor lantern is perfect for adding style and beauty while creating an inviting atmosphere outside. You could also choose to hang multiple lanterns from trees or posts to create a unique look that's sure to impress.
Easy Installation
Outdoor lighting fixtures are typically easy to install since most models come preassembled. You'll need to hang the lantern from a hook or mount it to a wall. This straightforward installation process allows anyone to set up their outdoor lighting and look great in no time. Plus, most models come with all the mounting hardware you'll need.
An outdoor lantern is one of the best choices for enhancing your outdoor space. Not only do they offer a warm, inviting light that creates an inviting atmosphere outside, but they also help increase safety and add beauty and style to any decor. Plus, installing them is easy too! If you're considering adding lighting fixtures to your outdoor area, call us at Premier Lighting today for help.
Posted: March 8, 2023